Jim Winestock-Board Chairman, President and Secretary
Email: jim@thewinestockfoundation.org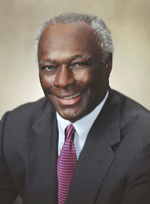 James F. "Jim"  Winestock, age 64, is a businessman with more than 40 years of experience in transportation.  He served for more than four years as Senior Vice-President for all of U.S. Operations for UPS and as was a member of the company's Management Committee.  He is a Magna cum laude graduate of Oglethorpe University and the Executive Development Program of the Wharton School at the University of Pennsylvania. He is a Trustee of the MARCH Foundation and the Annie E. Casey Foundation.  He serves on the board of Kansas City based YRCW where he chairs the Governance Committee, and he serves on the board of Aberdeen, Scotland based First Group, PLC. where he chairs the Safety Committee.   Mr. Winestock also serves on the board of ampCNG. Mr. Winestock lives in Jacksonville, Florida with his wife Toni.
 Brad Cast-Treasurer-Financial Planner
Email: brad@thewinestockfoundation.org

Brad L. Cast serves as the Director of Financial Planning at The Botsford Group.   He actively manages high net worth  relationships while specializing in the areas of liability, estate, and financial planning. Prior to joining The Botsford Group in 2004, Brad was a Senior Associate with KPMG LLP in Dallas, TX.  In addition to bachelors degree in business administration/management from The Dillard College of Business Administration at Midwestern State University, Brad also holds the Series 7 (General Securities Representative), Series 65 (Uniform Investment Adviser Law Examination), Series 63 (Uniform Securities Agent State Law Examination), and Series 31 (Futures Managed Funds Exam) licenses.  He is a licensed Life, Accident & Sickness agent in Georgia (License #2769352). Brad resides in Dunwoody, GA with his wife, Karen, and daughter, Madeline. He and his family are members of Dunwoody United Methodist Church and enjoy being active in the community.
Elizabeth Winestock-LCSW
Email: elizabeth@thewinestockfoundation.org
Elizabeth Winestock, a licensed clinical social worker, has worked as a therapist with many organizations including Dallas Challenge, Jewish Family and Children Services, and Children's Hospital.  She is a graduate of Kennesaw State University and holds a Master's Degree in Social Work from The University of Texas at Arlington.  Elizabeth "Toni"  has two adult children and lives in Jacksonville, Florida with her husband, Jim.
Dr. Flora Johnson Winestock
Flora Johnson Winestock is in her 35th year as pastor of the Second Calvary Baptist Church in Greenville, S.C.  She is a graduate of Morris Brown College of Religion in Sumter, S.C. and in 2009 received an Honorary Degree.  She is a member of he Municipal Elections Commission of Greenville County, S.C. and has chaired the Commission since 2007.
Ed Ivory-Retired Transportation Executive
Email: ed@thewinestockfoundation.org

Edward is a retired transportation executive with over 35 years experience.  Ed is a graduate of Edward Waters College in Jacksonville, Florida and has done consulting work with the JTA.  Ed lives in Jacksonville with his wife, Cynthia.  They have two adult children, Natolya and Edward, Jr.
Jessica Winestock-Foundation Administrator